CLICK HERE TO REGISTER FOR OUR BOOK LAUNCH CELEBRATION!
Wednesday, April 14, 2021: Gather Around the Light – A Book Launch Celebration!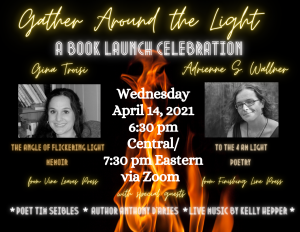 Join me in celebrating the release of my debut memoir, The Angle of Flickering Light, from Vine Leaves Press, and friend Adrienne Jaeger's debut poetry collection, To the 4 a.m. Light, from Finishing Line Press.
We will also have a few very special guests celebrating with us…
Poet Tim Seibles!
Author Anthony D'Aries!
Musician Kelly Hepper!
Join us for a toast, some live music, readings from our books, and even a few prizes!
OTHER UPCOMING EVENTS AND READINGS:
Monday, April 19, 2021: Print: A Bookstore, Portland, ME, Virtual Event 7 p.m. EST: Gina Troisi Discusses The Angle of Flickering Light with Melanie Brooks, author of Writing Hard Stories: CLICK HERE TO REGISTER
Wednesday, April 28th, 2021: 8:30 p.m. EST
Monday, May 4th, 2021: The Bookery, Manchester, NH, Virtual Reading
Wednesday, May 19th, 2021: A Virtual Reading with Taryn Bowe and Christine Tierney. Special Tribute to Dawn C. Lemay
Wednesday, May 26th, 2021: Memoir Writing: Shaping Narratives From Our Lives, William Fogg Library, Eliot, ME, 7:00-8:30.
Monday, August 2, 2021: Western Connecticut State University MFA Residency, 7:30-9:00 p.m. EST
Savory Senses: From Detail to Metaphor to Art, a presentation with Sue William Silverman, author of How to Survive Death and Other Inconveniences and Love Sick.
Sunday, September 5,  2021: Featured Author for Meet the Author Program for Empowering Women T.V. 3 p.m. EST
Past Events and Recordings:
Friday, April 9, 2021: Greatest Indoor Reading Series Virtual Reading
Tuesday, April 6, 2021: A Freethinker's Corner, Dover, NH, Virtual Book Launch
Thursday, March 4, 2021: SMOL Fair Commercial Meets Experimental Vine Leaves Press Reading
Sunday, February 28, 2021: Stonehouse Readers' Series 8 p.m. EST
September 17, 2020: Vine Leaves Press Virtual Author Reading