UPCOMING EVENTS
Friday, July 16, 2021: I will be Author of the Day for Global Girls Online Book Club.
Monday, August 2, 2021: Western Connecticut State University MFA Residency, 7:30-9:00 p.m. EST
Savory Senses: From Detail to Metaphor to Art: I'll be presenting with Sue William Silverman, author of How to Survive Death and Other Inconveniences and Love Sick.
Sunday, September 5, 2021: I will be a Featured Author for Meet the Author Program for Empowering Women T.V. 3 p.m. EST.
Wednesday, September 9, 2021 at 7 p.m. EST: A Novel Idea, Philadelphia, PA, Virtual Reading with Adrienne Wallner and Christine Tierney
Friday, September 10, 2021: Brattleboro Literary Festival.
PAST EVENTS & RECORDINGS
Wednesday, May 26th, 2021: Memoir Writing: Shaping Narratives From Our Lives, William Fogg Library, Eliot, ME, 7:00-8:30.
Wednesday, April 28th, 2021 at 8:30 p.m. EST: Writing and Publishing Memoir: A Reading and Discussion with Gina Troisi and Susan E. Casey hosted by Arlyn Miller of Poetic License Press, Chicago, IL.
Monday, May 4th, 2021 at 7 p.m. EST: The Bookery, Manchester, NH, Virtual Reading and Discussion with Gina Troisi and Susan E. Casey.
Monday, April 19, 2021: Print: A Bookstore, Portland, ME, Virtual Event 7 p.m. EST: Gina Troisi Discusses The Angle of Flickering Light with Melanie Brooks, author of Writing Hard Stories
Wednesday, April 14, 2021: Gather Around the Light–A Book Launch Celebration: Watch recording.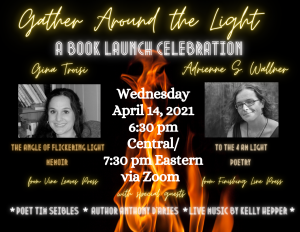 Friday, April 9, 2021: Greatest Indoor Reading Series Virtual Reading
Tuesday, April 6, 2021: A Freethinker's Corner, Dover, NH, Virtual Book Launch
Thursday, March 4, 2021: SMOL Fair Commercial Meets Experimental Vine Leaves Press Reading
Sunday, February 28, 2021: Stonehouse Readers' Series 8 p.m. EST
September 17, 2020: Vine Leaves Press Virtual Author Reading